Range Optimized Coaxial Line Isolator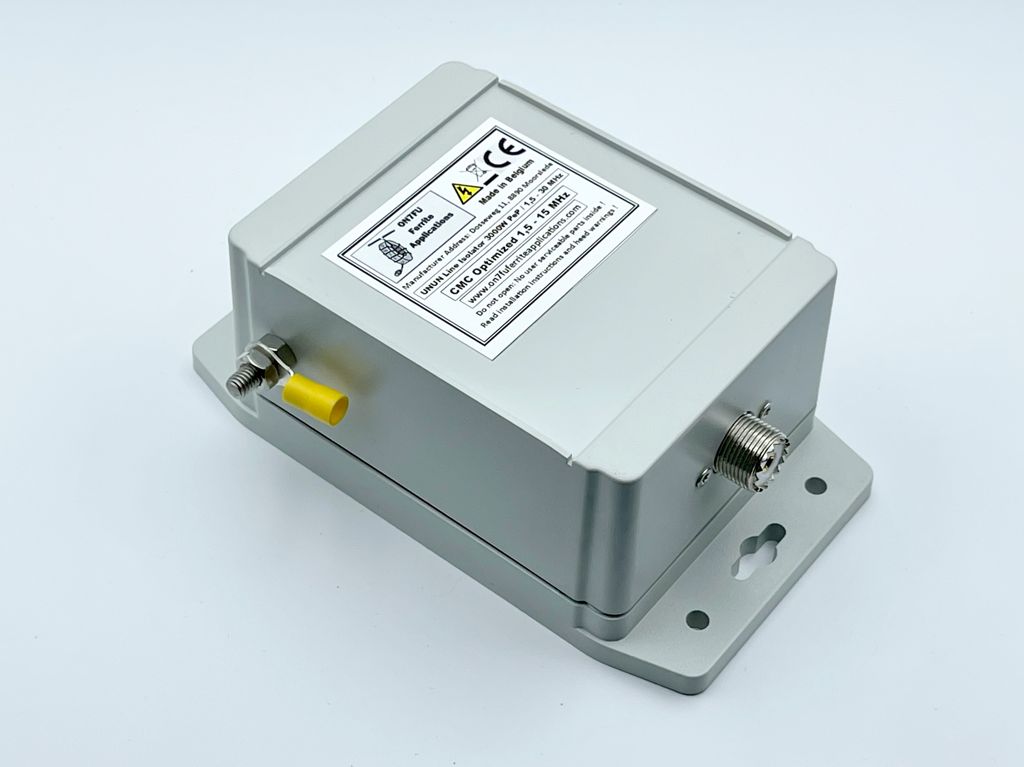 Partnership between Stockcorner and ON7FU.
Early 2017, thanks to a few hints of some mutual customers, Stockcorner met ON7FU.
After a short meeting and exchange of information with Hugo, it was recognized that both companies needed a reliable "Antenna Tuner BALUN" in their product line.
ON7FU agreed to cooperate with Stockcorner, and based on his experience, supplemented with Stockcorners knowledge of high power automatic remote antenna tuners, a heavy duty tuner BALUN was defined.
Because of the delicate application, being deployment at a random impedance environment, key development goals were defined as highest possible common-mode impedance, high voltage withstand and low saturation sensitivity.
ON7FU built some prototypes, which were extensively tested by Stockcorner engineers. The test BALUNs were placed in different antenna setups, and stressed under most harsh operation conditions.
While testing continues, half 2017 results proved successful and a first series of products were built, which are now available through Stockcorner's webshop exclusively for Stockcorner antenna tuner applications , or via the ON7FU website for general purpose applications.
---
Hugo designed in the past also a very high quality coax line isolator.
We decided to sell this type also in the Stockcorner Webshop.
This CAN (no guarantee !) be a solution for RF feedback and so on
---
Range Optimized Coaxial Line Isolator.
ON7FU coaxial line isolators are compact high power potted Common-Mode Choke type 1/1 UNUNs.
These devices are a variant of the well known ON7FU 1/1 high power current baluns, built using the same high quality materials and proven construction standards.
They are intended to be placed in the coaxial transmission line of radio amateur HF antenna installations, to eliminate common-mode (outer shield surface) currents caused by non-perfect transitions of a-symmetric to symmetric media.
Such conditions are often found in HF antenna installations with non perfect balanced behavior, like Windom antennas, antennas in the vicinity of obstacles, end-fed wire antennas with the coaxial cable acting as counterpoise or verticals with less than perfect ground systems.
ON7FU line isolators are characterized by their high common-mode choke impedance over the specified frequency range, including the largest possible resistive part contribution.
Furthermore, a grounding terminal is provided, allowing for connection of one side of the isolator to a clean RF ground, thus forming an "L" configuration filter for sheath currents, and providing additional (secondary) lightning protection. This configuration results in higher TX common-mode current rejection ratios and higher RX noise rejection characteristics. 
The Common-Mode Choke line isolators can be installed at any place in the coaxial feedline.
The most popular, convenient and recommended places however are at the bottom of the tower or at the building entrance.
When installed correctly, the line isolator will effectively avoid RF from entering your shack, possibly causing RF interference in your TRX and other electronic equipment in your house, as well as avoiding RF noise caused by digital electronic devices to reach the antenna and enter your wanted weak signal receive path in conducted emission mode.
Noise floor can effectively be lowered by several dB.
These single core line isolators are effective over the entire HF frequency range.
Using different types of ferrite material and by manipulating the number of windings, the CMC impedance maximum can be optimized over a decade of the frequency range.
(e.g. 1,5 – 15 MHz,   3,0 – 30 MHz,   5,0 – 50 MHz)
As such, LOW band optimized, high HF and wide range HF optimized variants are available.
To achieve the highest possible optimized impedance / bandwidth, a Low HF and a High band version can be cascaded (placed in series)
Properties:
 Broadband UNUN transmission line transformer (Common-Mode Choke) with impedance ratio of 1/1.
 Nominal impedance: 50 Ohms.
 Frequency range: 1,5MHz tot 55 MHz depending on version. (See label on the product)
 Large ferrite volume, preventing saturation under high power conditions.
 Use of teflon coaxial cable with high temperature resistance and high power / voltage withstand.
 Circuit installed in waterproof housing and impregnated / potted with synthetic resin.
 Maximum power: 3 kW.(ICAS) (@ VSWR of 2/1 max)
 Intrinsic VSWR: <1.2/1 over the specified frequency range.

Versions:
 Optional version, optimized for the mid HF bands, using "Mix 43" ferrite toroid core. (only on request)
 Version optimized for the low HF bands, using "Mix 31" ferrite toroid core. (this is the version we sell in the webshop)
 Custom versions on request. (different kind of connectors)

Use:
Suitable for deployment at any position in the coaxial feedline.
Use of the line isolator beyond the specified frequency-power or specified VSWR range can destroy it and cause safety risks.
The line isolator must be considered as a sub assembly, intended to be a part of an antenna installation.
The line isolator is exclusively intended for outdoor use, in a fire safe and explosion safe environment.
Under undefined VSWR conditions, (e.g. like exists after an antenna tuner) limit power applied to 1000W max.).

Connections:
SO239 connectors for coaxial cable connections. (N-connector or 7/16 DIN on request)
M6 stainless steel terminal for RF ground connection. (Functional earth).
This terminal allows for connection to a good RF ground, forming an "L" configuration filter for common-mode currents, and providing additional (secondary) lightning protection.
Note: Although the line isolator is built fully waterproofed (IP68) the antenna connectors need to be protected from moisture penetration. Use self amalgating tape or heat shrink tube with internal glue.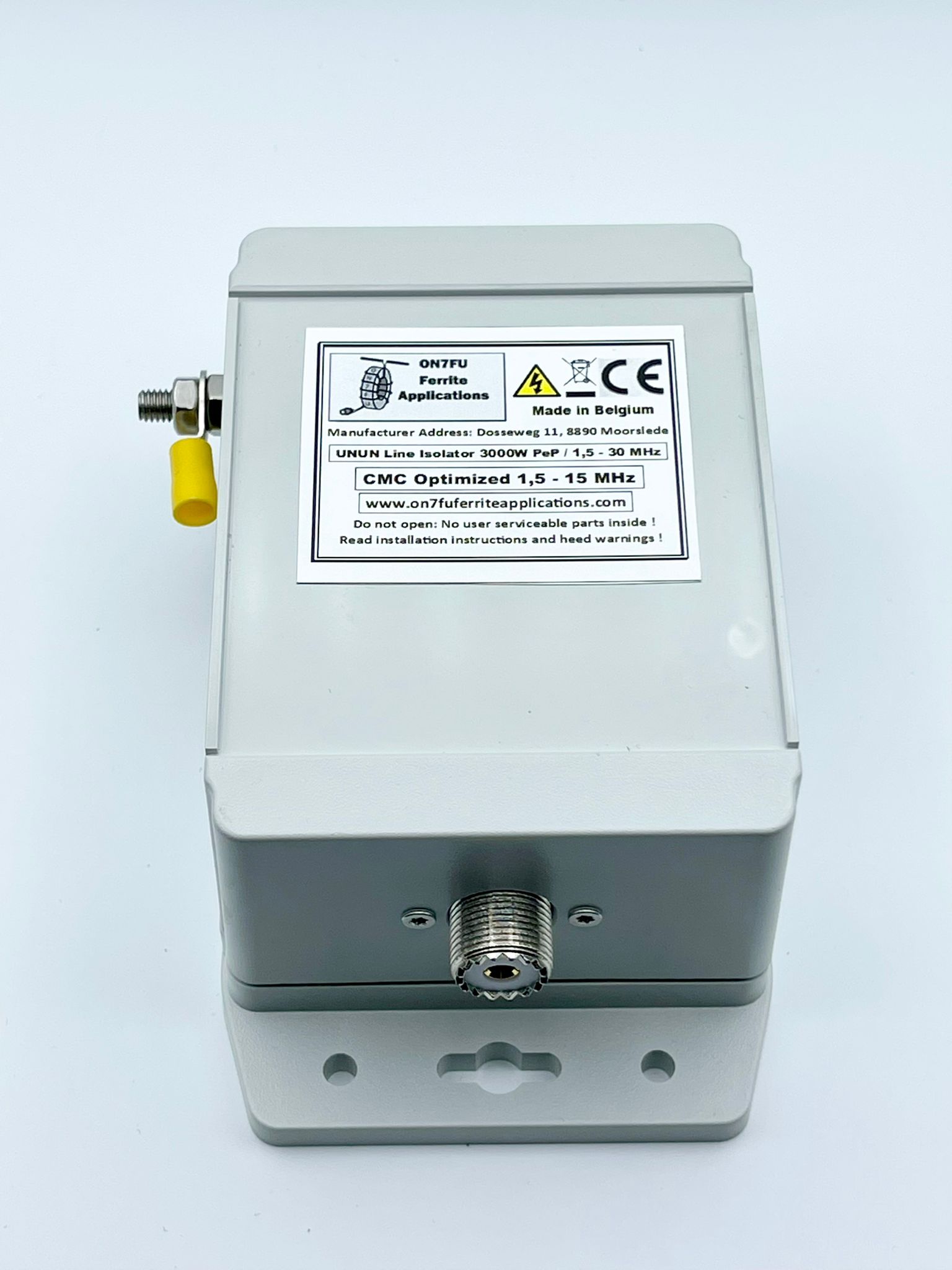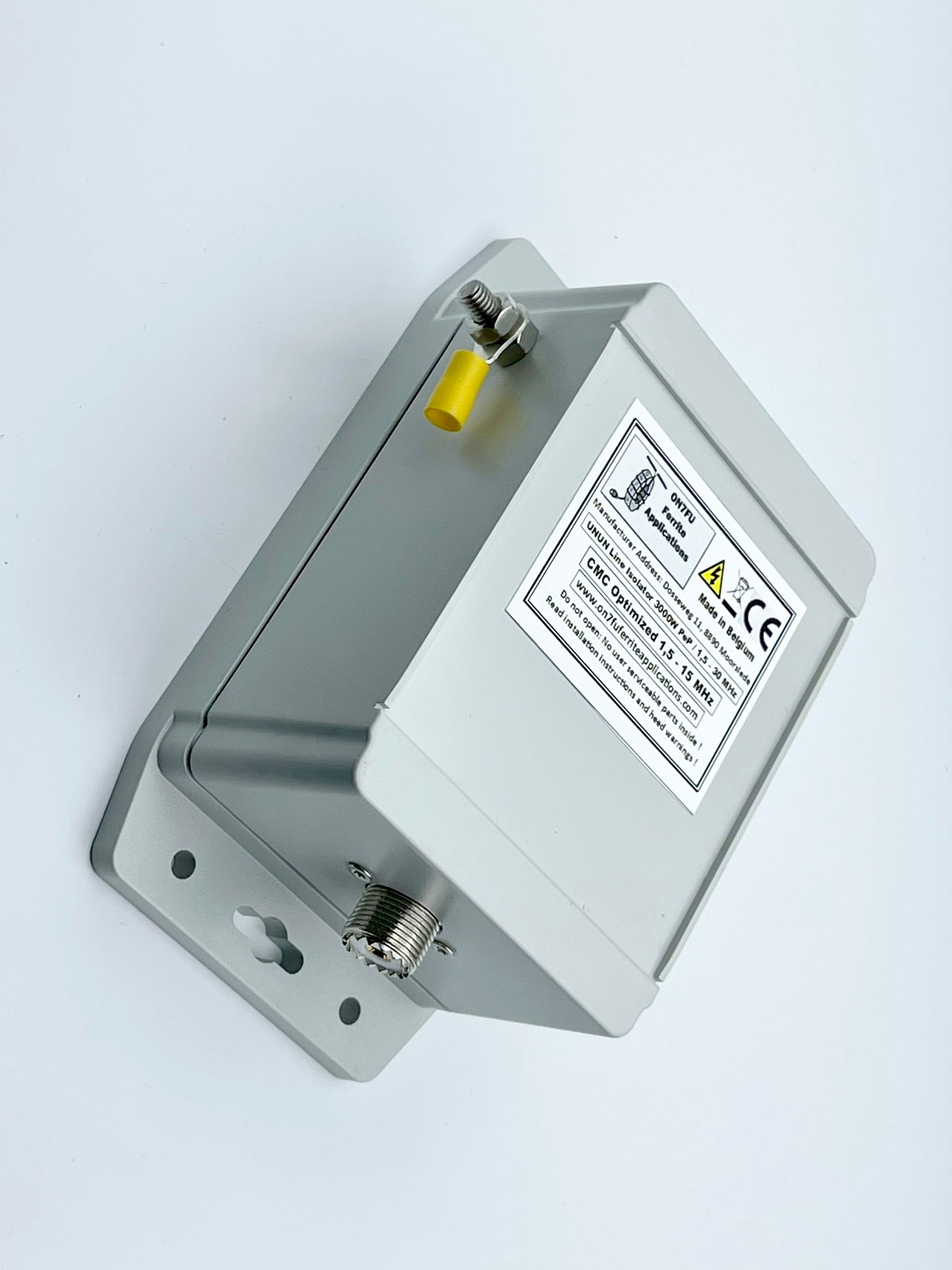 For more detailed information on ON7FU BALUNs: see www.on7fuferriteapplications.com